"The Rock" Personal Training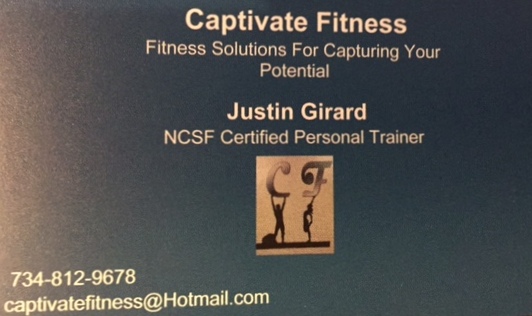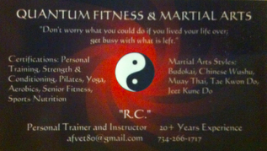 R.C
(734) 266-1717
Email: afvet80@Gmail.com

I have 20+ years of Fitness Training & Martial Arts. I work with all ages & abilities. In training we will use many types of activities that are tailored to you, not like an "assembly line" gym. Working with me is hard, but fun. Bring your sense of humor! My philosophy is, "Movement is medicine: It creates change in a person's physical, emotional & mental states. Physical fitness is part of your life- long health insurance plan." And no matter what state you are in, remember this: "Don't worry what you could do if you lived your life over; get busy with what is left."
Certifications in: Personal Training, Strength & Conditioning, Sports Nutrition, Yoga, Pilates, Senior Fitness & Aerobics as well as diverse experience in Chinese Wushu, Tae Kwon Do, Muay Thai, Kenpo, and Jeet Kune Do. I also do specialty classes. University degrees in Phys. Ed. & Health Science, also an Air Force Veteran & Officer.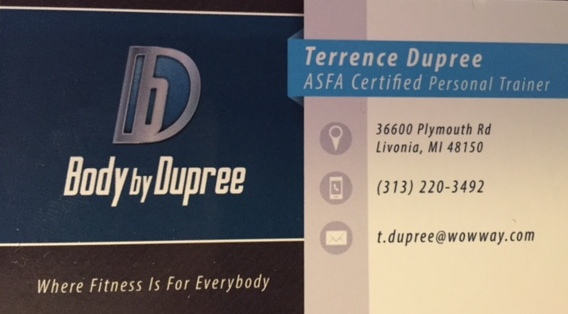 Terrence Dupree
(313) 220-3492
Email: T.Dupree@wowway.com
Terrence fell into fitness training and physique competitions by just being a friendly guy. He builds exercise routines for his clients that specialize in weight loss as well as toning and better definition.
ASFA Certified Personal Trainer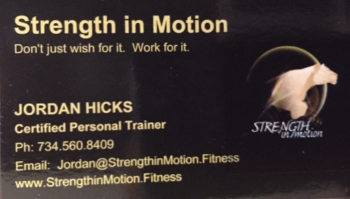 Jordan is a certified personal trainer with Strength in Motion, Jordan spent four years and two combat deployments as an Infantry Machine Gunner in the United States Marine Corps. After exiting Marine Corps active duty honorably in 2009, Jordan obtained his personal training certifications to share his intensity, experience, and dedication to personal improvement with all of his clients.
Personal Training Certification (Expert Rating Global Certification Course)

Personal Training Certification II (American Sports & Fitness Association)

Sports Nutritionist Certification (American Sports & Fitness Association)

Group Fitness/Bootcamp Instruction Certification (American Sports & Fitness Association)

Green Belt (Marine Corps Martial Arts Program)

Marine Corps Semper Fit: Fitness Instructor Certification (Marine Corps College of Distance Education)

Marine Corps Semper Fit: Nutrition Instructor Certification (Marine Corps College of Distance Education)